Die Casting Mold Manufacturer
Die casting is the process of using a heat-resistant mold to make different products under intense pressure. It is a complex process involving molten metal to produce components with minimum wall thickness. 
Die casting molds have quickly substituted the sand casting molds because they give better results and can be reused multiple times. Investing in a die casting mold is worth it because you can use the mold to create thousands of components. However, for the best results, you need high-quality steel for the steel insert. 
For production processes requiring aluminum die castings, you must source the highest quality of aluminum alloy. However, molds made from molten metal are most common because they give a wide range of high-quality parts, thinner-walled castings, and dimensional accuracy. 
The design phase for die casting mold production is essential since it influences the outcome.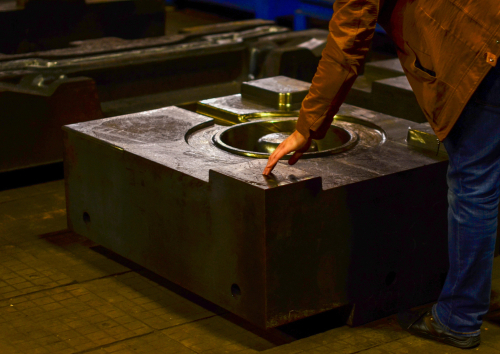 How to Design a Mold for Die Casting
Designing a mold for die casting is easy when you know what to do. We have mentioned these factors. Our die casting molds have the best features because our experts focus on getting it right. They ensure the cast alloys, cast supplier, cast tools, size holes, and costly tooling modifications are covered during the process. Also, we collaborate with an experienced tooling supplier to get multiple examples of sizes and the fastest method for the intended application.
Our design phase includes creating the framework for products with dimensional accuracy for the parting line, shrinkage, draft, wall thickness, undercuts, bosses, ribs, etc. 
We pay close attention during the die casting design phase to avoid costly tooling modifications. Also, we are open to integrating a common alternative casting process to meet our goals when necessary.
Importance of Die Casting Mold Design
The die casting mold design ultimately determines the final product. It is an essential step influencing the casting quality, shape, and trim. Therefore, we invest in the best equipment and cast tooling to achieve excellent die casting mold design. We aim to create perfect identical castings for different projects, including light metal castings. After that, sell cast products that meet world-class standards without exceeding the standard cost of production.
Factors Influencing the Die Casting Mold Design Quality
To get it right, we only apply manufacturing processes covering the main factors determining the quality of the die casting mold. These factors are wall thickness, parting lines, filets, symbols, ribs, and the die draft.
Our products undergo secondary inspections to ensure all these features are perfectly represented in the final products before shipping.
How Molds are Made for Die Casting
The mold for die casting is designed to create identical castings. It is a steel mold, in some cases, aluminum. We also have light metal casting production. The mold production process is lengthy and requires expensive mold tooling and complex geometries.
Here is the process of making a mold:
First, we get the best-quality mold cavity and essential tooling holders. Next, we smelt the metal; the molten metal is passed into the mold cavity in a pressured environment. 
After the mold is formed, it is ejected from the machine. The mold formed can then be used to make multiple die castings. The cast cavities of products made with this mold depend on its specifications. Also, a well-formed mold will make the ejection of the casting process easy, even for thinner-walled castings. 
Why a Mold is Important for Die Casting
Without a well-formed mold, getting the desired shape or patterns on the product is impossible. Therefore, we can list the importance of using a mold for die casting as follows:
To improve the finished product's quality
For dimensional accuracy
To maintain uniformity
For proper component configuration
To reduce the risk of corrosion
Die Casting Mold Components
The two main components of the die casting mold are the ejector and the fixed part. The ejector makes it possible to eject a casting ready for inspection. At the same time, the fixed part of the mold provides a stationary base for the casting to set after injection.
Other components involved in the process are the mounting plate, ejector plate, ejector pins, undercuts, and mold parting.
These components apply for gravity die casting, permanent mold castings, kinetic die casting, etc. 
Get Customized Die Cast Molds for Your Projects
Our die casting molds stand out because we use the best die casting and machining tools. Also, we adhere to an excellent quality control process to deliver flawless results.
Contact us today to order die casting molds in bulk. Our vast resources allow us to meet your demand within the shortest lead time. We also guarantee the provision of molds for high-quality parts and seamless manufacturing processes. To order, send us a customer contact form.