Plastic Injection Mold Making
Plastic Injection Mold Making
One of the best ways to create excellent plastic parts is using the plastic injection molding process. While you have to insert mold to get your custom plastic parts, the process is seamless and more precise. So, to insert mold for automobile safety components or household appliances in commercial quantities, our engineers use plastic injection molding, which gives consistent results.
The plastic injection mold making process is vast and suitable for making accurate injection molds, leveraging a perfect mold flow analysis. Therefore, you can expect outstanding products for industries such as automobile space and household items. At Moldie, we adjust the advanced plastic injection mold factory system to the correct settings using information from mold flow analysis.
Professional Project Management: Professional project management system and dedicated project management team ensure the smooth process of every project.
Strict Process Control: Each process of the project is monitored and controlled by our professional system and team.
Rich Experience: We have over 10 years of experience in mold building, production, independent design, and R&D capability.
High Quality: Precision CNC, EDM, CMM equipment, advanced software, high-end injection machines, and professional team to ensure the precision and quality of our products.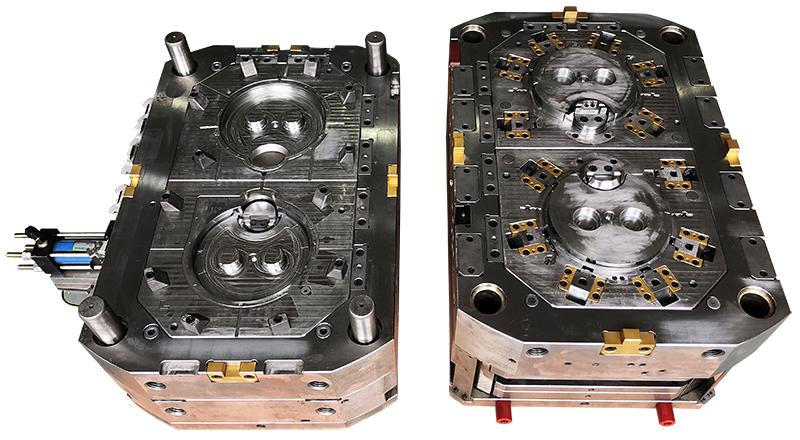 Molds For Plastic Injection
We use affordable mold tools for the basic injection mold construction process. If this is your first time, we will guide you to identify suitable custom injection molds or double injection molds, if that is what is most suitable for your target market. That way, we can leverage demand to deliver high-quality plastic parts by selling closed or complete molds.
We understand that selecting customer molds for plastic injection can be challenging. However, it is always worth your investment. With our help, you will find the experience rewarding.
Demand for insert mold is high because they are affordable and deliver the same benefits as the free-standing options. The main distinguishing feature of insert molds is the core and its cavity. At Moldie, we focus on our experience in mold design to make and deliver the best insert molds for your market. Also, you get access to choose from hundreds of injection mold designs from the injection mold assembly. Here are the top benefits you should expect to get when using insert molds:
Affordable injection mold construction types
Reasonable average lead times for all orders
Best injection mold maker for tiny parts
Single cavity mold option
On the market, you will often see the free-standing mold referred to as the stand-alone molds, so don't get confused. The molds stand out because they feature excellent injection mold materials that form the base and other essential parts. In most of these injection mold projects, you will find the SPI mold machine mentioned among the injection mold requirements. It is best for making molds with multiple cavities, a common free-standing mold feature. These products are in high demand for the following reasons:
Best injection mold purchase
Average lead times range from 3 to 8 weeks
Multiple cavities
Integrated injection molding molds
Injection Molding Process
Buying from the best mold designers offering reliable injection mold solutions often guarantees rapid lead times. Also, you are certain of getting perfectly formed mold halves, mold maintenance support, and quick answers to mold repair queries. This is what we offer.
Our expert team understands the mold production and injection molding process deeply. So, if you want many precision molds or have an elaborate plastic injection mold construction project, we are ready to deliver your order without stress.
To give you insight into our excellent injection molding process, here are a few things you should know:
Our skilled mold designers monitor the clamping process, which involves merging both halves of the mold without the mold opening during the injection stage. It is quite a delicate process from different types of molds.
Quality tooling expertise is needed for the injection process. This involves passing the plastic pellets through high temperatures in the machine barrel. The product is then clamped and injected into the mold. We monitor the entire process with the worry-free injection mold to prevent quality defects. Also, all our processes adhere to stringent quality policies. 
The cooling process starts immediately after the hot plastic enters the mold. The duration of cooling depends on the plastic's thermodynamic properties. However, other factors such as the thickness and specifications for the product's dimensions also influence the cooling rate. After cooling, you get a well-formed plastic product.
For ejection to happen, the stand-alone molds or multi-cavity molds in the machine must open. The ejection system is a mechanical process that releases the formed plastic, freeing the mold to receive the next molten plastic ready to be injected.
After ejection, we proceed with stringent quality standards for packaging the finished product and prep it for the batch assembly before delivery. However, in some cases, we may need to do particular post-injection processes to enhance or customize the product according to your needs. For example, following your order instructions, we may need to paint or coat the product. We go the extra mile to provide such services to ensure you are happy with the final product.
It should be a complex process, but we have an excellent machine tool, 11 high-precision CNC machines, and plastic injection molding machines to speed up processes without compromising quality. Our job is done within the agreed time requirements. We focus on particular enhancements for clients who need plastic products for automotive and various industries. 
Plastic Injection Molds Cost
For everyone wondering why the cost of plastic injection mold is so high, we have an explanation you will understand. We must use the best molds, delicately and precisely built for the job to deliver reliable quality. The essential quality materials for this process are expensive. Also, we must ensure we do a worry-free injection mold modification when necessary. In addition, we can only use quality aluminum for all projects requiring the material.
You will also find out that mold makers earn a lot of money. They are paid for expertise and years of experience. Finally, machines for making plastic injection molds are expensive. Clients such as those from the automotive industries pay a lot of money for these products. However, the overhead production costs are still high. At Moldie, we have gone above and beyond to ensure our rates are fair and reasonable regardless of the intensive production process.