Custom injection molding is a unique process used to make the precise parts for different industries. Products made through custom injection molding can be found in the medical, military, automobile, and other commercial sectors. We have maintained our production capacity to continue delivering the best customer injection molding services to ensure our clients get the best parts for their businesses.
We stand out in the custom molding industry by using the best machining tools to produce parts that meet particular specifications according to your order specifications.
We test our products to confirm they meet the excellent tolerance levels needed in your industry.
Our custom injection molding services always align with your projects. This is why we remain the best service provider in the industry. 
To provide the best outcomes, we offer excellent options and can guide you through our personalized business approach, to select the exact customized designs for your project.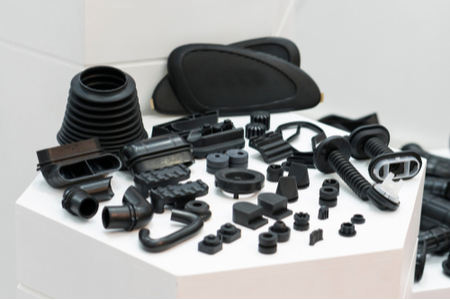 Injection molding is a cost-effective manufacturing process for large volumes of custom plastic parts. The injection molding process entails inserting molten plastic into a mold tool and removing the solidified section afterward. The cycle repeats itself several times, lowering the cost of molding and, thus, the price of every unit.
Because the injection molding process utilizes a similar mold tool for every part, it provides consistent quality in each product. Additionally, injection molding has a wide variety of polishes, materials, cosmetics, and colors compared to 3D printing or CNC machining.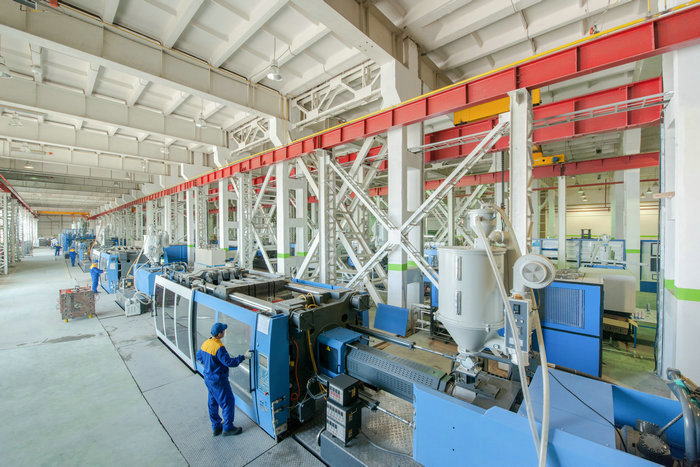 Moldie custom plastic injection molding services are one of a kind. We offer exceptional services that exceed our customers' expectations. After we receive your order, we find the appropriate injection molding supplier to mold the parts the way you desire at the appropriate price point and without compromising the design.
Additionally, we offer flexible services. We have sophisticated tools, a team of professionals, and resources that provide personalized parts for clients in various industries. Besides that, we work within a short lead time. All our processes are streamlined. This ensures that you receive your order within the desired time.
The Advantages of Custom Injection Molding
Plastic injection molding offers numerous advantages, including the following:
1. It's Cost-effective
Plastic injection molding is an automated process. Therefore, the labor costs are relatively low compared to other plastic manufacturing methods. Also, injection molding produces the parts at a high level with a high output rate, thus reducing manufacturing costs due to its effectiveness.
2. Plastic Injection Molding Offers Improved Strength
The resulting plastic injection molded parts from the injection process have enhanced strength. This is because you can use fillers in injection molds. These fillers lower plastic density during molding and add greater strength to the molded parts.   
3. It Offers Flexibility in Material and Color
Nowadays, numerous materials are compatible with the plastic injection molding process. With all the options available, you can easily choose a material with the appropriate chemical, physical, and mechanical properties. Aside from that, you can color the plastics using several coloring systems.
4. Plastic Injection Molding Supports Complex Geometries with Tight Tolerances
Custom injection molding enables the generation of high-volume and consistent, complex parts. To maximize the efficiency of high-volume injection molding and optimize the accuracy and quality of your portions, you must consider the design elements. With the appropriate design, you can produce high-quality parts consistently.
With injection molding, you can quickly obtain repeatable parts with tight tolerances, providing you with precise products for numerous applications and comparable to CNC machine parts.
5. Leads to Reduced Waste
The plastic injection molding process generates less post-production material waste than conventional manufacturing. Also, you can regrind and recycle any waste plastic for future use.
6. Custom Plastic Molding Offers Several Finishes
Most of the molded parts bear a soft surface finish, almost the same as the desired final look. However, a smooth appearance is only fit for some applications. Depending on the material's properties, the injection molding method produces finishes that don't need secondary actions. You can add unique textures, have matte finishes, or have engravings.
7. It Provides High Repeatability
Another significant benefit of custom injection molding is it's highly repeatable. After creating your mold, you can generate numerous similar parts before maintaining your tool. This results in a low cost of production.
8. It's Highly Effective with Fast Production
Custom injection molding is among the fastest production methods. The production output is high, making it more effective and cost-efficient. Mostly, the speed depends on the complexity of the design and size of your mold, but a typical mold takes around 5-20 minutes.
This promotes the production of more molds in a limited time, thus increasing profit margins. Additionally, some molds have multiple cavities, which leads to more parts being produced in one molding cycle.

Injection Molding Capabilities
Regarding custom plastic injection capabilities, we are proud to be among the top injection molding companies that provide unique and precisely defined parts that can boost machines and procedures in various essential companies globally.
Our injection molding capabilities enable us to produce distinctly shaped parts that can't be created using other methods. We use multi-cavity, single, and family machines to produce high-quality injection molded products cost-effectively.
Additionally, we work closely with you to plan and organize innovative solutions. We are experts in metal-to-plastic conversion, durability, and component design, lowering production time and cost while enhancing efficiency. We are known for our particular procedure to reduce costs and lead time and boost the production capabilities of different industries.  

Injection Molding Process
Custom plastic injection molding needs three fundamental elements – a raw plastic material, an injection molding machine, and a mold. Molds for plastic injection are made up of high-strength steel and aluminum elements programmed to function in two halves. Each half assembles inside the molding machine to form a custom plastic part.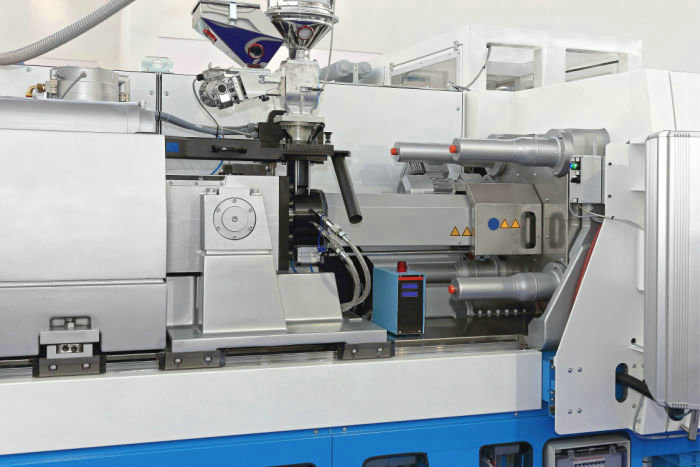 After that, the machine injects molten plastic into the mold, where it solidifies to form the final product. The custom injection molding process follows strict specifications and is achieved in the following steps:
1. Clamping
The first step of the injection molding method is clamping. Generally, injection molds are made of two halves. In this step, the machine closes these halves before the plastic is inserted into the mold to prevent the mold from opening during the injection step.
2. Injection
In this step, raw plastic, typically in the form of small pellets, is inserted into the injection molding machine at the feed zone section of a reciprocating screw. Temperature and compression heat up the plastic material as the screw transmits the plastic pellets through heated areas of the machine barrel.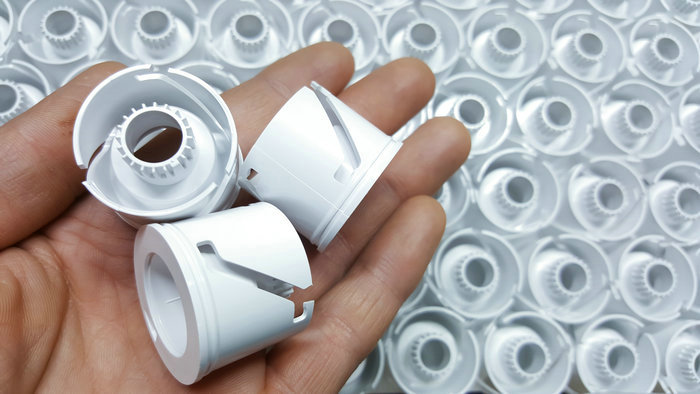 The quantity of melted plastic transmitted to the front of the screw is accurately measured since that's the amount that'll form the final part after injection.
When the appropriate amount of melted plastic pellets arrives at the front of the screw, and the mold is well clamped, the machine inserts it into the mold, driving it to the last part of the cavity under high pressure.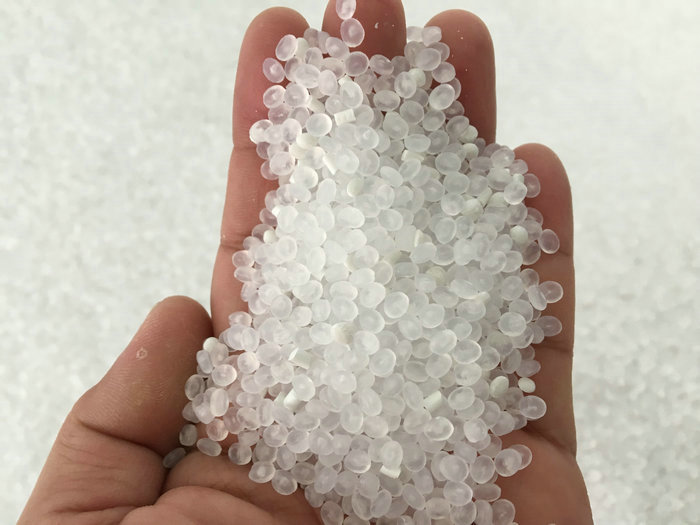 3. Cooling
Once the molten plastic touches the internal mold surfaces, it cools. The cooling method solidifies the shape and toughness of the freshly molded plastic part. The cooling time required for each plastic molded piece relies on the wall thickness, the thermodynamic properties of the plastic, and the dimensional need of the custom parts.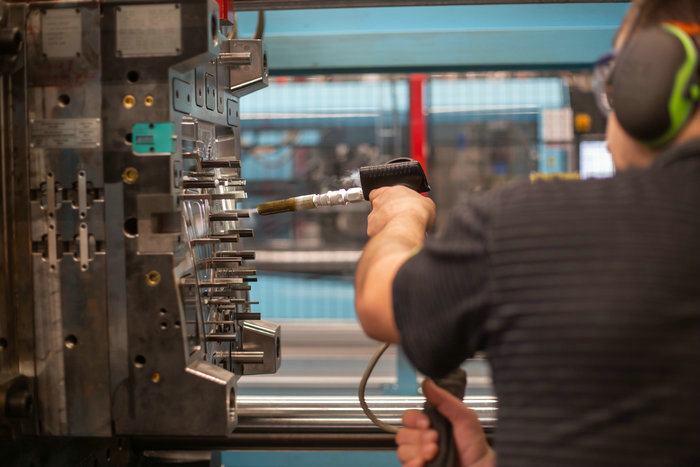 4. Ejection
After cooling, the machine unclamps and opens the plastic injection mold. The device is fitted with mechanical provisions that operate with components developed within the plastic injection mold to remove the part. In this stage, the custom-molded part is forced out, and the mold is all set for the next move when the new part is completely ejected.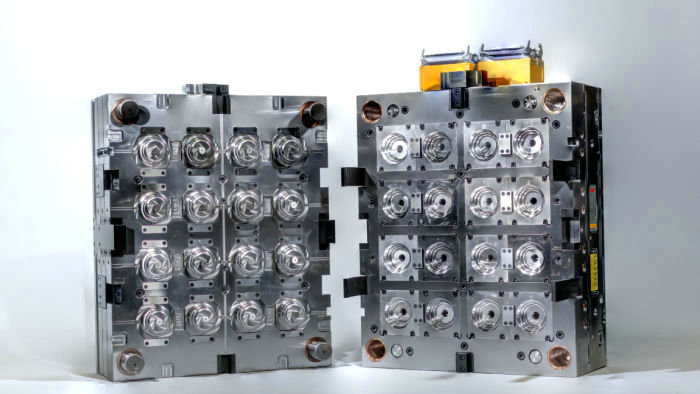 Custom Plastic Injection Molding Materials
The custom plastic injection molding materials are categorized in the following ways:
1. Rigid Plastic Materials
Below are some materials under this category:
This is mainly mixed with infills like mineral fibers or glass. It generates rigid sections with low creep and a slower water absorption rate than nylon. PARA is perfect for structural elements in medical electronics and handheld devices.
PC is a lightweight, transparent, and durable material alternative to glass. Because of its high durability and extreme impact resistance, most industries use PCs in several applications, including electronic devices, lenses, safety equipment, etc.
This is a consumer-grade polymer that you can choose based on density, making it among the most used plastic worldwide. You can have low-density (LDPE), high-density (HDPE), or polyethylene terephthalate (PET, PETE).
PE plastics have high elasticity, abrasion resistance, and chemical resistance. They're best utilized to injection mold more oversized items, often used in bottles, films, tubing, packaging, etc.
Acrylonitrile Butadiene Styrene (ABS)
This is an amorphous thermoplastic material with a low melting point. It's compatible with colorants and contains myriad textures and finishes options. ABS is highly impact-resistant and robust. However, it has weak resistance to high friction, UV rays, solvents, and weather elements. Also, it releases heavy smoke when burned.
ABS is best used in consumer goods, electronic components and coverings, sports equipment, and automotive parts.
This is also another commonly used plastic globally. It's mainly similar to PE but is more heat-resistant and slightly harder. In injection molding, you can recycle this material and combine it with other plastic materials. Due to its low density, PP is used for storage containers, living hinges for plastic bottles, power tools, and sporting goods.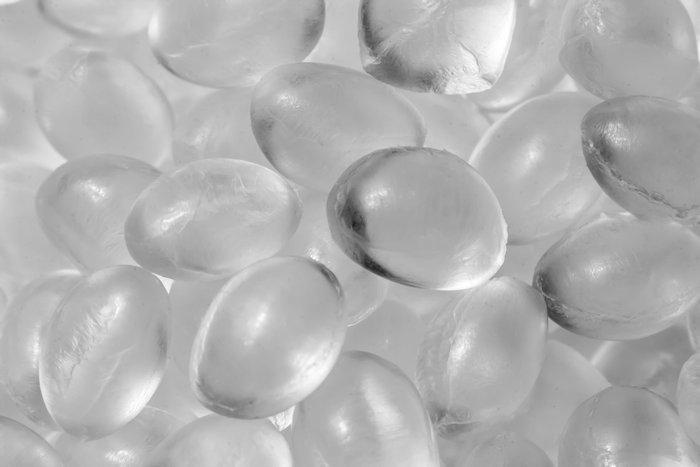 Thermoplastic Polyurethane (TPU)
TPU is known due to its resistance to oils, abrasion, and chemicals and its ability to deal with high temperatures. It comes in different grades, including medical, industrial, and commercial. Thus, it's best fit for wheels, shoes, medical devices, and electronic casings.
PPA is a subgroup of nylons that typically have low moisture absorption and high melting points. It's used in automotive and industrial applications since it can resist harsh chemicals. Additionally, it's good in headlight housings and fuel manifolds.
Polyvinylidene fluoride (PVDF)
This is a high-temperature, chemically inert material. Because of its low friction, PCDF is used in bearings, tubing, plumbing parts, electrical wire insulation, and chemical handling.
Thermoplastic polyolefin (TPO)
TPO has good chemical resistance and is flexible, but has lower temperature resistance than PP.
Styrene acrylonitrile (SNA)
SNA is a polystyrene that's transparent and heat resistant. It's popular in kitchenware, door handles, and household goods.
This is an all-around rigid plastic used in trimming, non-food packaging, and plumbing.
Polyphenylene sulfide, Ryton (PPS)
PPS is a high-performance thermoplastic that's highly resistant to solvents.
Acetal polyoxymethylene (POM)
This one has high wear resistance, low friction, and good moisture resistance.
Polystyrene-polyphenyl ethers (PS-PPE)
PS-PPE exhibits high heat and flame resistance. Moreover, it has tensile strength and high stiffness even when subjected to high temperatures.
Acrylonitrile styrene acrylate (ASA)
This material is almost the same as ABS but has a higher resistance to fading and is thus used for outdoor purposes.
Low-density polyethylene (LDPE)
A flexible and hard material that's non-reactive in alcohols, acids, and bases. It's best suitable for snap lids, general-purpose containers, and trays.
CA is a flexible material that can be utilized in the film, eyeglasses, or food contact.
Liquid crystal polymer (LCP)
LCP offers unique features for thin-walled components and micro-molding. It's common in medical devices, and electrical interconnects and connectors.
High-density polyethylene (HDPE)
It has a perfect strength-to weight-ratio and chemical resistivity. HDPE is mostly used for connector insulators, food containers, and fuel tanks. It can also be utilized in outside equipment such as playgrounds.
Polyamide 6/6, nylon 6 (PA 6/6)
This provides enhanced mechanical strength, excellent stability on heat, and rigidity, and chemical resistance.
Polybutylene terephthalate (PBT)
This is a popular electronic insulator having a polyester base. It's mostly applied in automotive as a longer-wear option to nylon.
Polyether ether ketone (PEEK)
PEEK provides outstanding tensile strength that exceeds most plastics. For that reason, it's mostly used as a lightweight alternative to metal parts in high-stress applications and high temperatures.
Polycarbonate-acrylonitrile butadiene styrene (PC-ABS)
As the name suggests, this is a combination of PC and ABS that results in a higher-strength engineering thermoplastic that's more flexible than ordinary polycarbonate.
This is known for its high flame and heat resistance. It's applied in most medical uses and is more cost-effective than PEEK.
PES is a rigid and transparent plastic that's biocompatible, sterilizable, and chemically inert. It's fit for food-contact equipment like coffee machine components. It's also applicable in high chemical exposure industries like automotive and aerospace.
Polycyclohexylenedimethylene terephthalate (PCT)
This material has good environmental stability and low moisture absorption. It's mostly used in switches and connectors.
Polycarbonate-polyethylene terephthalate (PC-PET)
This is a combination of PC and PET to yield a product that's tough and chemically resistant and can be used as a substitute for PC-ABS. It withstands harsh chemicals and solvents, making it perfect for healthcare applications and sports gear.
Polycarbonate-polybutylene terephthalate (PC-PBT)
This has similar features to PC-PET and is popular in electronic enclosures.
Polyethylene terephthalate (PET)
Also known as PETE, PET is a strong, lightweight, and clear PE resin used in soda bottles, jars, food packaging, etc. PET is food-safe and is recyclable with a resin code of 1.
High impact polystyrene (HIPS)
This is a versatile, economical, and impact-resistant plastic that's made of rubber and crystal styrene. HIPS is suitable for food-grade components due to its non-toxic properties.
Polymethyl methacrylate (PMMA)
PMMA is a halls-like plastic that's clear and has good wear and tear features. It's the best fit for outdoor use.
This is an eco-friendly and reusable plastic that has low glass transition temperature. It's popular in short-use applications.
Nylon provides excellent electrical properties, resistance to heat wear and chemicals, and strength. Medical and automotive industries frequently use nylon for custom plastic injection molded parts.
2. Elastomer and Rubber Molded Materials
Thermoplastics vulcanizates (TPV)
TPV is a hard thermoplastic material containing parts of soft cross-connected rubber spread all over its polymer matrix. TPV provides a smooth feel, high compression set, and matte finish. It's applied in bumpers, under-hood applications, seals, boots, and grommets.
Thermoplastic polyurethane (TPU)
TPU is known for its good clarity, mid-to-high hardness, good wear, tear, resistance, abrasion, and moderate compression set. It's ideal for outdoor applications, including skateboard wheels, flexible tires, protective cases, weatherproof gaskets, and medical devices.
Polyether block amide (PEBA)
PEBA is made of hard polyamide blocks fluctuating with soft elastomeric blocks. It has good impact resistance, creep, and flex fatigue. Moreover, it has low compression sets and can thrive well under high temperatures. PEBA foams are utilized in sports equipment, padding, shoe insoles, electronics, and medical equipment.
Thermoplastic elastomer (TPE)
This is a wide group of elastomers that act like a thermoset with elasticity and high flex but behave like a thermoplastic during molding.
LIquid silicone rubber (LSR)
Silicones are flexible rubber materials with high heat resistance, marvelous versatility, and providing food and biocompatibility. LSR is used in consumer products, automotive, aerospace, and medical devices.  
Ethylene propylene diene monomer rubber (EPDM)
This is among the most high-functioning rubber elastomers with superior chemical and heat resistance and moisture sealing features. It's commonly used in electrical insulators, gaskets, automotive seals, and O-rings.
Injection Molding Mold Classes
We have the following molding mold classes:
1. SPI Mold Classification
Conventional injection mold tooling is described by classes from class 105 (prototype) to class 101 (high-volume production). Those mold classes assist in managing both injection molding suppliers and customers on the general tool demands and scope. Below is an outline of the various classes:
This is a mold under 500 cycles and is generated in the least expensive manner possible to create a minimum quantity of prototype parts. This class is also referred to as class V tools.
This class is below 100,000 cycles and is a low-production mold. It's used only for restricted production, preferably with non-abrasive materials.
This is below 500,000 cycles and is popular for low-to-medium production requirements. It's also the most popular price range.
This is a first-rate and highly-priced mold used for medium to high-production tooling. It's ideal for abrasive materials or sections needing close tolerance.
This is above 1,000,000 cycles and is designed for exceedingly high production. It's the highest-priced mold and is created with only superior-quality materials.
Custom Injection Mold Finishes
Various surface finish selections for custom-molded plastic parts are available. Surface finishing processes for injection molding can aid in decreasing or increasing the coarseness of a part. For instance, rougher finishes are ideal for certain mechanical parts, while glossy texture fits aesthetic parts like toys.
The society of plastic industry (SPI) devised industry standards for plastic injection molding finishes, as outlined below:
1. Glossy Injection Molding Surface Finish
Molded plastic parts can be made glossier using a finishing process like diamond buff polishing. In such a method, an injection molding company uses a loose abrasive material on a work wheel. Afterward, they utilize this on parts with minimum aggression, producing parts with the glossiest possible finishes.
2. Semi-Glossy Injection Molding Surface Finish
This finish is suitable for parts that need some glossiness. A grit sandpaper is used. This process works well with a large number of injection molding plastics. It's also used to produce high aesthetic parts fit for consumer products.
3. Matte Injection Molding Surface Finish
This process involves removing machining marks from molded parts without generating a glossy finish. It's ideal for parts that lack aesthetic value but need a consistent surface finish. It offers high-quality mold surface texture and doesn't display any noticeable marks.
4. Textured Injection Molding Surface Finish
In some cases, you may require a very rough finish to increase friction, like in mechanical uses. You can use a sandblasting process to apply a rough surface finish in such a case. Sandblasting utilizes compressed air to steer abrasive material against the part with force, roughening its surface.
Other common finishes include the following:
Sanding
Anodizing
Electroplating
Polishing
Power coating
Painting
With the right custom plastic molding finish, you're sure to have durable custom plastic parts. Working with us enables you to achieve this and impress your customers. Our team of experts is well-versed in all the finishes and can suggest suitable thermoplastic materials and finishes for particular products. Therefore, partner with us today and gain a competitive edge with the best services.
Quality Inspections and Finishing Options for Custom Molded Parts
When asking for an injection molding quote, you can select from the following options depending on your application needs:
1. Quality Inspections available for on-demand manufacturing orders
You have the following options:
In-process CMM inspection and machine monitoring
Scientific molding process development report
First article inspection (FAI) and process capability report with GD&T
Designing for manufacturability feedback (DFM)
2. Post-Processing
Under this option, you have:
Pad printing
Component assembly
Threaded inserts
Laser engraving
Mold texturing
FAQs
1. Why Do Plastic Injection Molds Cost So Much?
Various factors contribute to the high costs of plastic injection molds. One of the major factors is the molds themselves. To produce superior-quality plastic parts, you must use a high-quality built injection mold. Molds for plastic injection are made of machined elements generated from different metals like hardened mold steels and aircraft-grade aluminum.
The molds are then designed and created by experts, also known as mold makers. These people have spent several years learning the mold-making trade. Thus, they're well-versed in this process of producing high-quality molds. Their remuneration contributes to the high cost of plastic injection molds.
Moreover, mold makers require very costly tools to carry out their jobs, like CNC machines, cutting-edge software, precision fixtures, and tooling. Other factors that contribute to the high cost of custom plastic injection include the following:
Mold Design
Custom injection molding design has a significant impact on its price. The custom plastic injection molding procedure requires a lot of pressure when the machine injects the plastic into the mold cavities. Without the high pressure, the injection molded parts won't have the desired surface finishes and can be dimensionally incorrect.
Mold Construction Requirements
Another significant factor associated with the high cost of injection molds is the mold construction demands. The construction must be accurate for an injection mold to function appropriately during the custom plastic injection molding procedure. Even though the molds are outlined as two halves, a core, and a cavity side, several precision parts usually constitute every half.
Nearly each of the precisely machined mold elements that'll assemble and produce your custom molded parts are instrumented to tolerances of 0.025mm or +/-0.001''. A conventional copy paper is 0.089mm or 0.0035'' thick. Therefore, a mold maker must be very precise to slice your copy paper into three ultra-thin pieces and accurately build your mold.
The complexity of the Part
The more complex your part is, the more expensive your injection mold will be. Also, the mold can be very hard or even impossible to modify once created through compression molding. This makes it challenging for you to change the design.
Mold Materials
For your mold to resist the pressures it's subjected to during the custom injection molding procedure, it must be made of superior-quality aluminum and steel grades. Additionally, it must be made to withstand clamping and injection forces.      
2. How do you know if injection molding is the right process for a product?
Various factors influence your decision on whether custom injection molding is appropriate for you. These factors include your budget, the number of parts required, the geometry of the part, and the application of the part.
3. How long does it take to build a new mold?
It may take an average of 8-10 weeks, depending on the design complexity and cavities of the mold.
4. Will the molds for my part be maintained between production runs?
Molds are less likely to be maintained between production runs. However, this may depend on factors like injection mold material, operating conditions, cycle times, and time between production runs. You can use these factors to determine if you can maintain your molds at any time.