Plastic Injection Mold Maker & Manufacturer
Our specialty as a plastic molding company is offering the best plastic injection molding services using high-quality raw materials and tools. We guarantee an excellent customer experience with every service we provide.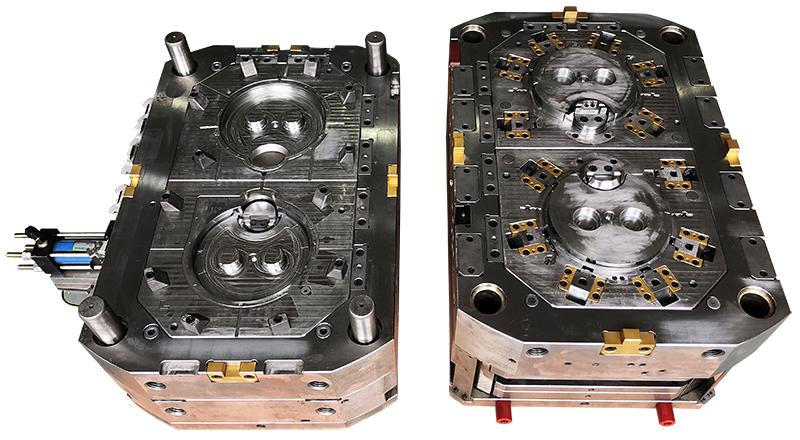 We deliver perfect molds consistently, making us stand out as a reliable plastic mold supplier. Our experienced team uses the latest CNC machines in our plastic mold factory for precision plastic injection molding, including complex tasks like lathe processes, multi-axis milling (up to 5 axis), and EDM machining. We target achieving an accuracy point of 0.005 mm for every project using advanced and reliable tools.

Our automated die cast mold-making processes build molds with accurate volume and high-pressure tolerance. The excellent results sets us apart as the best custom mold & dies manufacturer. This is how we provide affordable and excellent products for a world-class market.

We have made our plastic injection molding service seamless. You will receive samples to confirm our products meet your standards. For all custom tasks, you get excellent services like part design, target cost planning, measurement reports, and after-sales support.

We consistently deliver the best products with low melting points using high-grade alloys such as zinc/Zamak, aluminum or magnesium.

We create and render 2D and 3D designs for your project. These Auto CAD part designs help enhance the quality of single or multiple-part projects. At our plastic molds factory, we target creating products with excellent tolerance, volume, and ITAR compliance in every case.

We are a leading plastic injection mold manufacturer with outsourcing ability, poised to offer extra support to clients who need:
High-quality packaging
Assembly
Testing
Supply of stamping parts and CNC machining parts
We are a full-service plastic injection mold company with extensive resources to handle bulk orders, prototype development, and deliver excellent products quickly. Our position as a reliable plastic injection mold manufacturer provides products that meet world-class quality standards. We use the latest technology and equipment to build plastic injection molds accurately, die casting, and other complex machine operations for precision plastic molds.
Every part of our injection molding process is aimed at achieving engineering success. This is why our plastic injection molds stand out. We have a vast team of trained production engineers who understand the entire injection molding process to deliver excellent results. Our affordable plastic injection molds are made from high-quality molten plastic, ensuring we achieve the targeted volume production and rapid prototyping without compromising quality.
The primary components for manual assembly and computer numerical control all play significant roles during the contract manufacturing stage. We also ensure the team uses advanced tooling design and machining capabilities for fast heat removal. This is how we meet your demands for the best mold construction for plastic parts and plastic pellets.
We provide excellent molds to create plastic molded parts, and all our products reflect a quality standard you can trust. Demand for these metal replacement plastics is increasing. And we are poised to leverage our vast resources to provide the best custom injection molds to meet your demands.
Send us a customer contact form with your messages or bulk order details today.