Look at any ad for a new car model, and you'll notice that car makers seem to be in a race to make the lightest cars without compromising space, quality, and comfort. To explain why every automaker wants to make lighter cars, the car division of USNews.com notes that "The less mass something has, the less energy is required to move it."
Like all other carmakers, Tesla is also taking measures to make simpler, lighter, and cheaper cars. In its characteristic Tesla fashion, the company is doing this with great fanfare, announcing via a Tweet on February 5, 2021, that it has acquired the "World's biggest die casting machine." The company says that this machine "can cast front & rear vehicle underbodies in a single piece each — down from 70+ parts for same sections previously."
This article looks at how Tesla plans to use high-pressure die casting to improve its cars by making them simpler, lighter, and cheaper. We start by defining high-pressure die casting.
What Is High-Pressure Die Casting?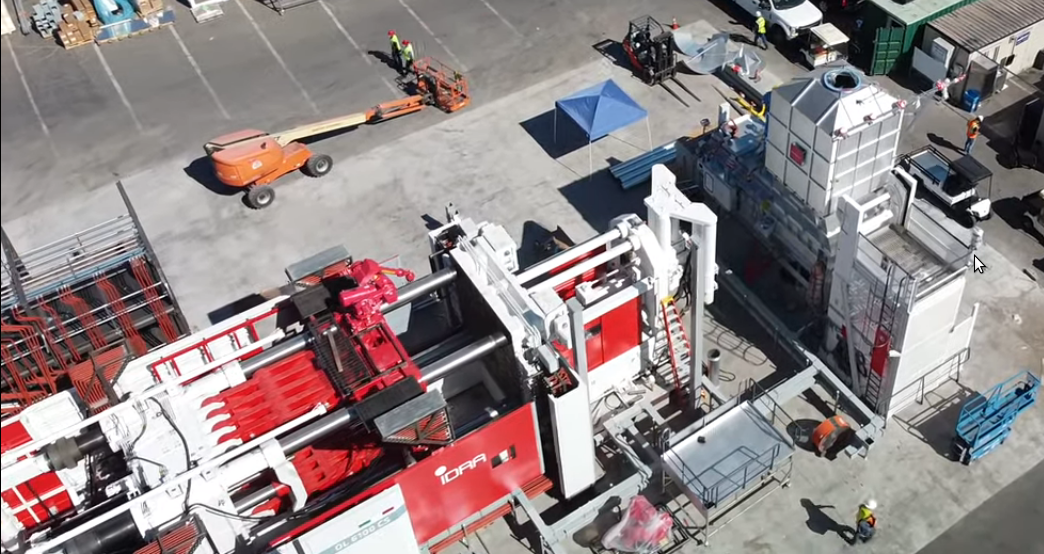 Die-cast molds, especially high-pressure die-cast (HPDC) molds, are at the forefront of a revolution in how cars are produced. But what is high-pressure die casting?
To understand high-pressure die casting, let's start by defining die casting. The online encyclopedia Britannica.com defines die casting as "forming metal objects by injecting molten metal under pressure into dies, or molds." The dies and molds are made from heat-resistant steel.
The high-pressure part denotes that the molten metal is forced under pressure into a die cavity. The properly locked cavity holds the molten metal until it solidifies into the desired shape.
Isaiah Richard writes for TechTimes.com, a website that reports on the latest industry, science, and technology developments and innovations. He refers to high-pressure die casting in the context of car manufacturing: "A die-cast machine is like a press that forms the metal around a certain cast, containing all the details that the vehicle needs."
Introducing the World's Biggest Die Casting Machine
When Tesla announced in February 2021 that it has the world's largest die casting machine, those who know Elon Musk were not surprised. For instance, in his article published by Entrepreneur.com, Randy Garn says that "No means nothing" to Musk. This means that he believes that anything can be done, even when many people say no.
When he writes for TorqueNews.com about the die casting machine used by Tesla, Jeremy Johnson can't hide the fact that he is impressed. He says, "Tesla is making cars the same way toy cars are manufactured with automation, and it's like 3D printing!" Adding, "It's like a Giant High Tech Waffler Maker!"
Tesla may have the biggest die casting machine on earth. However, Musk himself indicates that "Making this work has been / still is super difficult, but it's a revolution in car body design & production – lighter, tighter, better NVH, higher precision, lower capex, lower unit cost."
FoundryMag.com, a website that contains news about metal casting technology, provides some insights into Tesla's reasoning behind its decision to turn to die casting at a massive scale. The site reports that Musk had indicated during an interview "that automotive body design and manufacturing is fraught with inefficiencies because such assemblies involve multiple cast and/or stamped pieces welded or joined together."
Size of a Small House
Edward Taylor and Paul Lienert of Reuters.com describe Tesla's high-pressure die casting machine, called the Gigapress, using the words "size of a small house."
The Italian company IDRA Srl supplies the machine. The company boasts that it is the "first company worldwide that can offer … Giga Presses on the market."
If you are wondering why Tesla went to IDRA Srl for the machine, you probably haven't seen the latter's innovative goals:
Create solutions for the hydraulic plant that can save energy consumption by up to 40%.
Make it possible to manufacture large structural castings with thinner walls by enabling more stable injection conditions in all phases.
Improving aesthetics and modularity by introducing a deep evolution in the body of cars.
Making it simpler to commission machines at the client's premises by developing novel architectures for the "die casting cell with a central control hub monitoring the press and all other peripheral equipment."
Thomas Fritsch, Chief Editor at Foundry-Planet.com, says that "Gigapress is not just XXL, it signals the new way of thinking in die casting."
How Does the Gigapress Help Tesla Make Simpler Lighter Cheaper Teslas?
So, what's the fuss with the giant high-pressure die casting machine at Tesla? Taylor and Lienert have an idea. They say that the high-pressure die casting machine will solve the challenges met by companies attempting to introduce more aluminum into the car's frame.
Taylor and Lienert note that "Aluminum has proven cumbersome to use in large components because it is difficult to stamp into complex shapes." Adding, "To get intricate ridges and other shapes, aluminum pieces have needed to be glued or riveted, since welding deforms the metal."
And how will pressure die casting solve this challenge? Again, Taylor and Lienert have the answer: "Injecting molten aluminum into a cast and having robots pull out the molded metal allows Tesla to combine several manufacturing steps." They add that this has allowed Tesla to reduce the number of parts in the rear underbody to two parts, forming the biggest casting ever seen in a car company.
Fritsch agrees that the Giga Press will make things cheaper for companies that use it. He writes, "Two Giga Presses are cheaper than four large 4000t machines and considerable savings can be achieved in the entire assembly area." Adding, "One speaks of about 20% based on the entire process with fixations, robots and quality inspection of the individual parts."
Better Quality
The Gigapress also makes it easier to manage quality. In this regard, Fritsch says, "The keyword is 'quality' — the arguments mentioned here are better features, the stability and stiffness of the casting part, and also the simplification of the quality control, which is a check performed through one test code for every 3 cast parts."
Friendly to the Environment
In a video posted on YouTube, IDRA's General Manager, Riccardo Ferrario, refers to saving the planet. He says, "If we dare to dream big, and we are convinced about what we're doing, we can change the world towards a better future for our children and our grandchildren."
You can see Ferrario's full video below.
Fritsch supports the energy-saving claim. He writes, "Concerning sustainability and environmentally friendly production, the concept of fewer and therefore very large die-cast parts can achieve advantages of up to 20% less effort, especially in terms of energy consumption." He adds that "The 1-Shot strategy for large die-cast parts also helps to save energy and resources in the long term."
The Patent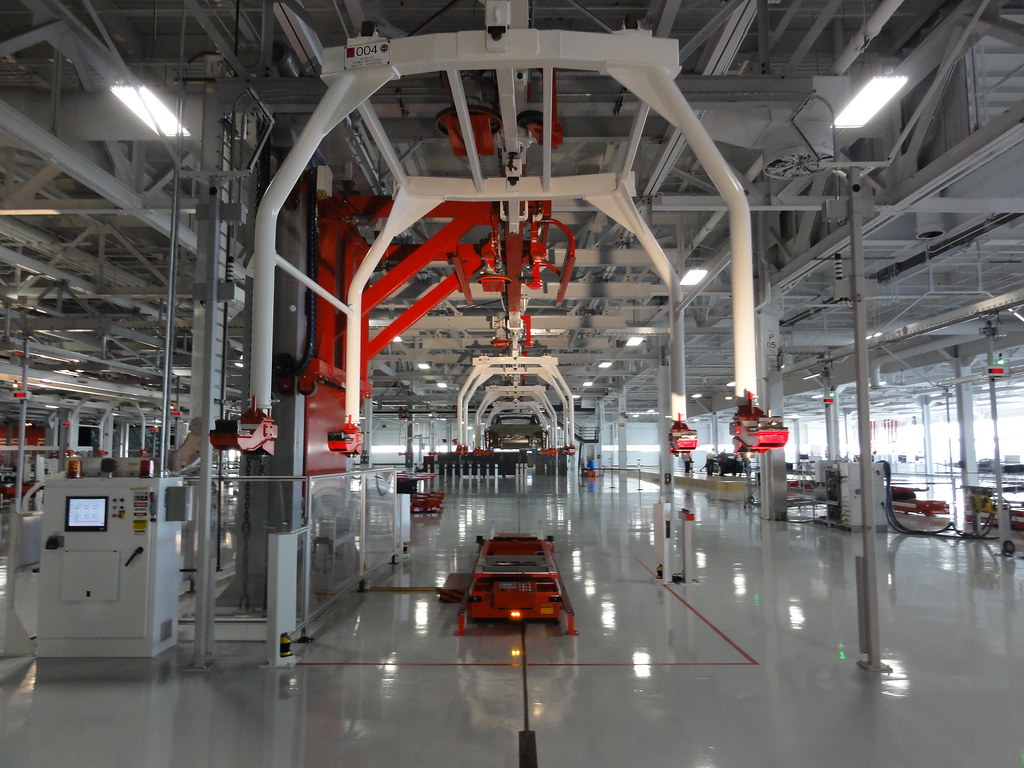 We can also get a better idea of what Tesla's new high-pressure die casting machine can do by looking at the Multi-Directional Unibody Casting Machine for a Vehicle Frame and Associated Methods patent filed by Tesla.
Part of the patent reads, "The present disclosure describes embodiments of die casting machines and methods thereof that may reduce build time, operation costs, costs of manufacturing, factory footprint, factory operating costs, tooling costs, and/or quantity of equipment."
The patent also adds that "Such casting machines may reduce the number of casting machines or actual castings required to cast a complete or substantially complete vehicle frame (e.g., to less than six, less than five, less than four, less than three, less than two, or one casting machine(s))."
The Giga Press Is the Future at Tesla
In a December 2020 article produced for Teslarati.com, a website dedicated to all things Tesla, Simon Alvarez takes a sneak peek into the future. He reports that there are rumors that Tesla has ordered another 11 Giga Presses.
"Previous reports point to Giga Berlin receiving eight of the machines, and flyovers at the Giga Texas site seem to reveal three isolation pits for the monster machines in the area," says Alvarez.
If Musk had earlier said that "Making this work has been / still is super difficult," he seems to have been on point. On March 12, 2021, Fox Business reported that Tesla's Giga Press had caught fire at the factory in Fremont, California.
According to Fox Business, the "blaze was caused by hydraulic fluid and molten aluminum used in a die casting press that's being installed at the facility."
If you consider the number of hurdles Tesla has overcome through the years, the company will likely be able to successfully deal with any challenges related to the massive high-pressure die casting innovations it's introducing.
Nathan Bomey writes for USA Today and reminds us why Tesla's future looks bright. He says, "With the company's short-term survival no longer in question – today it is the most valuable automaker in the world, according to the stock market – it can now turn its attention to charting a long-term path of success."
If the rumors that Tesla is buying almost a dozen of Giga Presses soon are true, the long-term path to success seems more apparent.